Welcome to the Radiologic Technology Program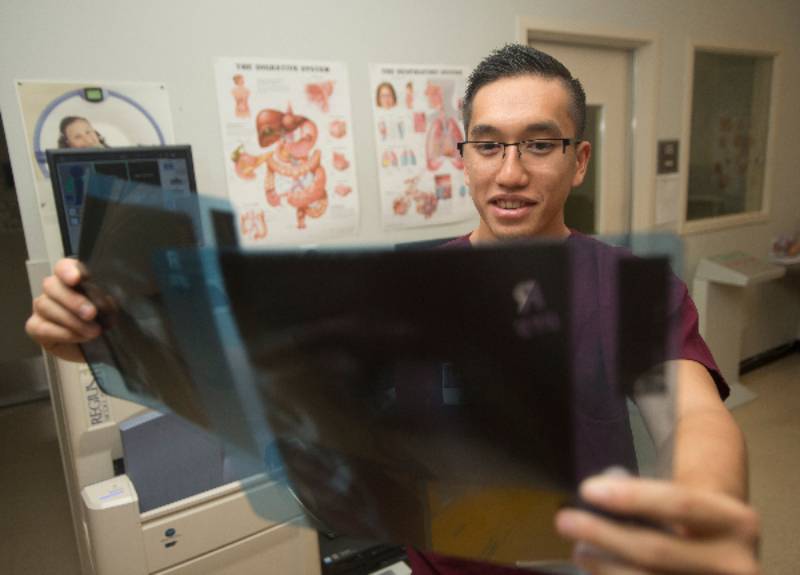 100% of the students graduating in 2015 secured employment in Radiologic Sciences within one year of program completion. Congratulations to the Class of 2015!
The course of study in Radiologic Technology offered at Mt. SAC and its affiliated hospitals is designed to train students in the diagnostic uses of x-ray as well as the technical skills to use x-ray equipment in both the laboratory and clinical settings. Students learn to operate x-ray equipment, assist physicians in the diagnosis of disease, and to apply proper medical ethics. Students will also learn the nature of radiation, the principles of radiation protection, the structure of x-ray machines, and the operation of a clinical x-ray department.
Students who complete a total of four (4) regular semesters, two (2) winter, and three (3) summer intersessions of preparation at the College and its affiliated hospitals are eligible to apply for the registry examination through the American Registry of Radiologic Technologists, and the California Certification of Radiologic Technology with the Department of Public Health.
The program is accredited by:
The Joint Review Committee on Education in Radiologic Technology (JRCERT)
20 North Wacker Drive, Suite 2850
Chicago, IL 60606-3182
(312) 704-5300
The program adheres to standards established by the JRCERT. Individuals interested in reviewing those standards and program compliance can visit: www.jrcert.org
Program effectiveness data reported by the program and the JRCERT can be found at the link above under the "About" tab
Web page maintained by David McLaughlin, Radiologic Technology, phone (909) 274-4790, email at dmclaughlin@mtsac.edu.